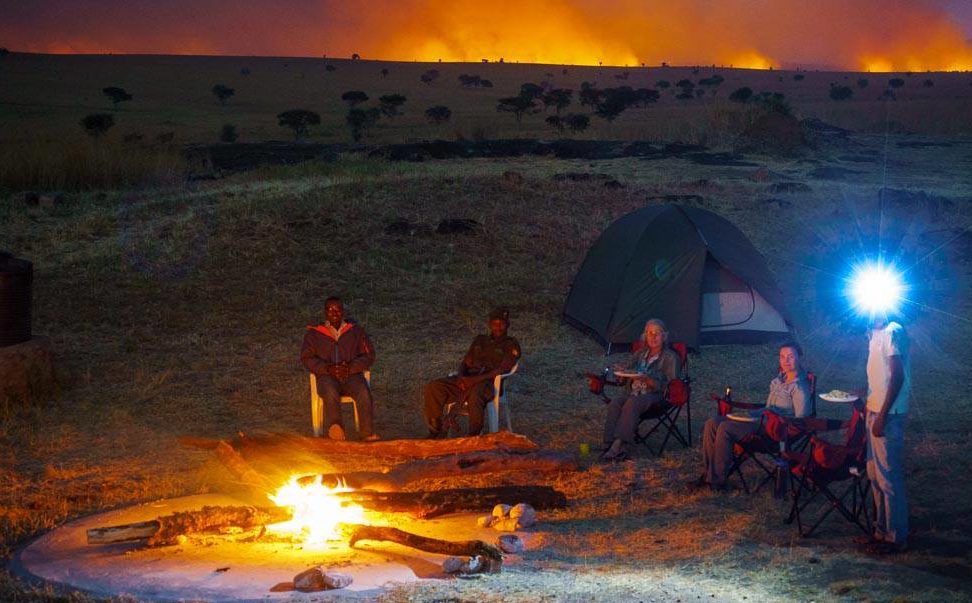 Duration:                5 days/4 nights
Highlights:              Game drives through the stunningly scenic park. Lions sunning themselves on rocky outcrops, cheetah, elephant, ostrich and comfortable camping in genuine African wilderness. Breakfast overlooking Sipi Falls.
Optional Extras: Rhino tracking at Ziwa, village or nature walks in Kidepo, walks to Sipi Falls.
Group Safari/Fixed departure/Min total of 4 people/Can be booked as individual/Budget accommodation/Full Board/Private safaris are also available.
Price per person $495 all inclusive
Scheduled departures every fourth Thursday of the month
Day 1:
Early departure from Kampala. Travel through the villages of rural southern and central Uganda northwards across the Kafu river and then across the Nile at Karuma Falls and a quick break to take in the impressive rapids. We reach our destination for the night, "the capital of the north", Gulu in time for lunch. Gulu is a rapidly expanding town recovering from its isolation due to the activities of Joseph Kony and the LRA. In the afternoon we will head to Patiko, not far from Gulu, for a tour of this historical site set among the rocky outcrops so typical of this area. Patiko (or "Baker's Fort") was an Arab slaving outpost that was captured by Sir Samuel and Lady Baker (with a little help) in the 19th Century and its story is brought to life by excellent local guides. Your accommodation for the night is a good clean budget lodge and dinner is provided, usually at the excellent Ethiopian restaurant in town.
Day 2:
After breakfast we take the road north to Kitgum. The tarmac is over and conditions dictate our progress but we expect to take around 2-2.5 hours through the rural north before a quick break in Kitgum. From Kitgum we head north-east to Kidepo. This is a stunning drive as we head into increasingly mountainous terrain before finally bursting through the mountain pass with the beautiful Kidepo Valley National Park laid out before us. We arrive at the campsite in time for lunch, prepared by our camp chef, and an opportunity to stretch your legs and take in the view. In the early evening we take a short game drive and then head to Amapuis Rock viewpoint to see what we can see before returning to the campsite to find your dinner being prepared. We'll have time now for a warm shower (if it's been sunny) and possibly a sun downer before dinner around the campfire and a peaceful evening listening to the sounds of the bush under the night sky.
Day 3:
Wake up in the middle of the action and watch the sunrise over the Morongole mountains with a coffee and some fresh fruit. Then we begin our day of game viewing with a visit into the Narus valley in search of lion, elephant, giraffe, eland, zebra, and leopard and to marvel at the sight of the huge herd of buffalo grazing in the wetland. We return to camp for a more substantial breakfast before heading towards the seasonal Kidepo River in search of cheetah and ostrich. We take a packed lunch among the Barassas palms at the Kidepo River, from which the area takes its name before returning to camp in the mid afternoon. You can find a nice shady spot to relax or take the optional nature walk or community visit before a traditional African poike stew around the campfire in the evening.
Day 4:
Up in time for sunrise again and breakfast and packing up camp for the long journey ahead. Depending on road a weather conditions, our route will either take us south through the stunning Karamoja landscape via Moroto or back via Kitgum and Soroti. Our target is to visit the vast reserve of Pian Upe on the southern Karimoja plains and to have one final opportunity to see ostrich, cheetah and hyena. However, road conditions are quite frequently very poor here so we do sometimes head for the foothills of Mount Elgon and our accommodation perched on the edge of the cliff overlooking the famous Sipi Falls. Time for a sun downer and dinner with a view of the falls and the Karamoja plains in the distance, or of the beautiful acacia studded savannah of Pian Upe, with Mount Elgon as a backdrop.
Day 5:
Breakfast and the local coffee followed by either relaxing taking in the great views and crisp fresh air or the optional walk to the falls. It's an interesting walk through farmland to the foot of Sipi Falls. Not a long walk but a steep one! If at Pian Upe there is just time for a quick game drive (optional and depending on road conditions) before around mid morning we depart and head to Jinja for lunch and on to Kampala (depending on itinerary) in the afternoon.
Safari Package Includes
4×4 vehicles specially adapted for game viewing
English speaking guides
All accommodation costs on a twin share basis
All park fees and game drive fee.
Camp attendant/cook
Meals as indicated on itinerary
One free night in a dormitory at Bushpig Backpackers before departure
Recommended Daily Spending Allowance
USD $15 – 30 per day
The above is a guideline only.
Optional Extras
Nature Walk $35 (direct with UWA)
Safari Package Excludes
Airfare to and from Uganda and/or Domestic Airfare
Airport transfers (we recommend Pineapple Express-www.entebbejinjashuttle.com)
All beverages except tea, coffee or juice taken at breakfast where breakfast is included
Souvenirs and items of a personal nature like telephone calls
Any activity, meal or accommodation NOT mentioned in the itinerary
Porters and other luggage service
What to bring?
Uganda's parks and campsites are unfenced. You may need to leave your tent briefly in the night and to do so safely you will need a good torch. Kidepo is generally hot and sunny during the day so sunscreen and a hat are a good idea, but it does get chilly at night so a light jacket/jumper is also advisable. There is no power supply in the wilderness so please charge you cameras and phones to the brim before departure. Spending money for additional activities. There are no banks where we're going!
What to leave behind?
Try to keep you luggage to a minimum. We travel with all our camping equipment so if you can leave big bags somewhere safe it makes it more comfortable for everyone.